Paul Yock, MD, Resident Alum :

Developing medical technologies to advance patient care
Dr. Paul Yock is an interventional cardiologist whose curiosity and skills have resulted in lifesaving inventions for patients with heart disease, including the Rapid Exchange balloon angioplasty and stenting system, intravascular ultrasound techniques, and the Doppler-guided Smart Needle.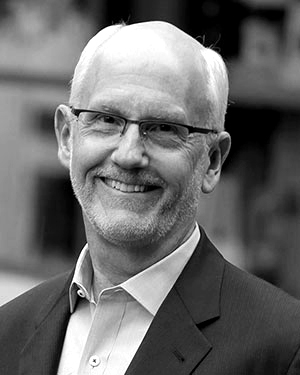 In 2001, Yock founded Stanford University's Byers Center for Biodesign, which he describes as an "inventors' finishing school," to help young physicians and engineers learn a repeatable process for technology innovation. They begin their one-year fellowships by observing Stanford patients and providers, then return to the center with ideas for potential quality improvements.
"We boil that list down to the most important needs and then invent solutions for each need," Yock says.
So far, the trainees have founded 50 companies that have raised $800 million in startup funding and produced inventions that have reached 2.7 million patients.
"It's been huge fun," Yock says. It's also spawned similar programs around the world.
In 2018, the National Academy of Engineering presented Yock with the Gordon Prize for Innovation in Engineering and Technology Education for creating the biodesign center, noting that the "cumulative impact of this work is monumental."
Learning from Pubs and Peers
Yock grew up in St. Louis Park, Minnesota, near Minneapolis. His father was a professor of dentistry at the University of Minnesota, and his mother trained as a dental hygienist.
He was still deciding whether to pursue medicine or philosophy when he began undergraduate studies at Amherst College. During a summer internship at The Hastings Center, an ethics research institute in New York, the center's director suggested that philosophy would always be available to him as a pursuit, but he could make a bigger contribution as a practicing physician.
Taking that advice to heart, Yock completed a bachelor's degree in chemistry, but before medical school, he pursued philosophy at Oxford University's Trinity College. Yock says those years provided incredible intellectual conversations – at local pubs. "The coursework at Oxford was great and educationally challenging, but the level of debate in the pubs was staggering," he says.
Next, he earned his medical degree at Harvard University, where he was drawn to cardiac medicine, an interest that grew during his UCSF residency under the mentorship of longtime UCSF faculty cardiologist Kanu Chatterjee, MD. "He was a remarkable clinical scientist and human being, and an influence on many, many students, including me," Yock says. Yock thrived at UCSF, buoyed by a brilliant and tight-knit cohort of peers, many of whom went on to have distinguished careers in cardiology and other fields.
A Closer Look at the Heart
When it came time for his fellowship, Yock was drawn to Stanford because of its cardiac subspecialties, particularly echocardiography. He'd had some experience using Doppler ultrasound when he happened upon a self-published monograph by Norwegian cardiologist Liv Hatle on using Doppler to accurately measure the velocity of blood flow, providing a minimally invasive way to determine the true condition of the heart valves.
Yock was so intrigued that he visited Hatle in Norway, launching a collaboration that lasted for decades and resulted in publications that are still the most cited of Yock's career. Doppler examinations are now standard in cardiology clinics around the world.
During his fellowship, Yock also met John Simpson, MD, a pioneer in coronary angioplasty who founded Advanced Cardiovascular Systems. Yock began working for Simpson, ultimately using his ultrasound experience to develop the new field of intravascular ultrasound.
"Through my work on those new techniques, I got the engineering bug," he says. "I was so lucky to receive good mentoring along the way, in medicine, engineering, and business. I thought that what I learned could be put into a university training program and not just be something to do after hours. That's the origins of the Biodesign Center."
Meanwhile, for much of that time, he also had a full-time clinical cardiology practice.
"If you want to try to innovate medical technologies, it's a huge advantage to be in the trenches to see how things actually work," he says.
Paul Yock won a 2020 UCSF Campaign Alumni Award in "The Innovators" category. The award honors individuals whose work has led to unexpected findings or outcomes that resulted in positive changes to the science or health care communities.