Molly Steen, PharmD '15 :

Serving the American Indian community
When she was young, Molly Steen watched her father battle lung cancer, then a brain tumor, and finally, Parkinson's disease. As part of the Cherokee Nation of Oklahoma, he elected to receive his care at the local Indian Health Service clinic.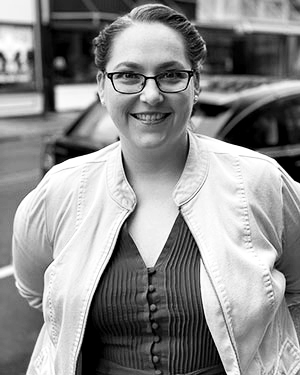 "He had wonderful doctors and specialists there," Steen recalls. "I remember the humanity with which he was treated and the way his providers worked together. The pharmacists in particular offered a lot of counsel, and I saw the clear impact of their role on his health." These early interactions prompted her interest in pharmacy and ultimately led her to UCSF.
"As a queer woman, I wanted to venture outside the Bible Belt, immerse myself in different cultures, and be part of a bigger community," she says of her decision to head to San Francisco. "I also really wanted to attend UCSF, given its focus on and expertise in clinical pharmacy." She saw many parallels between UCSF and the Indian Health Service: Both are progressive organizations that aim to integrate pharmacy and primary care at a high level and empower pharmacists to offer counsel and disease-state management.
Following her graduation from UCSF and her residency in North Carolina, Molly joined the Quentin N. Burdick Memorial Health Care Facility on the Turtle Mountain Reservation in North Dakota – one of the most remote American Indian reservations in the country.
"I came here right after my residency because I wanted to be involved with the Indian Health Service and knew there was great need here," Steen explains. "I was also influenced by my UCSF mentor, RADM (Ret.) Pam Schweitzer, PharmD '87. Pam's entire career was devoted to the US Public Health Service and began in the Great Plains area. I was lucky to be guided by her early in my career, and I saw that this could be the start of my adventure too."  
Within two years of arriving, Steen was named deputy chief pharmacist, a result of her leadership, clinical skills, and impact on the health of the more than 14,500 residents of the reservation of the Turtle Mountain Band of Chippewa Indians. Steen was instrumental in establishing the first accredited pharmacy residency program there, which was challenging given the rural and underserved location. She also implemented a program in which diabetes patients are managed by pharmacist practitioners.
"It was a fast journey, and I didn't necessarily expect to make the transition to administration so quickly," Steen acknowledges. "Yet everything I do is still closely related to teaching and clinical competencies. UCSF fully prepared me for such a multifaceted role."
Steen credits a fourth-year project at UCSF with giving her the confidence and skills to believe she could positively impact peoples' health and create lasting change. Working with classmate Judie Tran, PharmD '15, assistant director of experiential education in the UCSF Department of Clinical Pharmacy, and Marilyn Stebbins, PharmD '88, professor in the UCSF Department of Clinical Pharmacy, she established a transition-of-care student program that offered students early in their careers more exposure to patient care. "It was one of the first times someone at a much higher authority level told me to take a vision and run with it," Steen says. "I think about that experience whenever I'm trying to implement something new."
After four years in North Dakota, Steen began a new role as chief pharmacist at the El Reno Indian Health Clinic west of Oklahoma City in April. "I plan on staying with the Indian Health Service for as long as I can," she says. "I really enjoy what I do and the opportunity to positively impact this community, and I'm proud of what this Campaign Alumni Award represents for me and for the Indian Health Service."
Molly Steen received a 2020 UCSF Campaign Alumni Award in "The Pathfinders" category. "The Pathfinders" Alumni Award honors individuals who have graduated or completed training within the last 10 years and are relentless in their pursuit of new ideas that push the boundaries of science and health care.