Monica McLemore, PhD '10 :

Demanding quality reproductive health care for all
On average, black women in the US die during pregnancy or childbirth at three to four times the rate of white women. Most public health experts would label this trend a "health disparity." Monica McLemore is one of those experts, but she isn't afraid to call out the racism behind the statistics.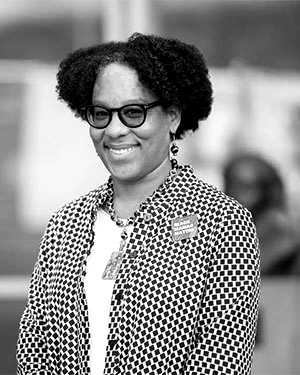 "There has been mistreatment and disrespect of black people seeking health care for probably as long as the United States has been in existence," she said. "From the individual [factors] all the way to the structural, black people have not fared well in our health system."
Monica's experience with American health care goes back to her childhood in New Jersey. Born premature, she had to visit physicians a lot as a kid. But the nurses made a bigger impression. They were so kind to her that, at age 8, McLemore decided that she wanted to be one when she grew up.
So she did. And as a nurse, she grew interested in not just treating clinical problems, but preventing them. McLemore pursued a master's degree in public health, then earned her doctorate in nursing at UCSF. Today, she's an associate professor in UCSF's Department of Family Health Care Nursing – and one of only five black faculty members who have achieved tenure since the School of Nursing was founded in 1907. She's devoted her career to advancing reproductive health and turning around the black maternal health crisis in the US.
Most of McLemore's studies ask questions like: What's behind the unusually high rates of preterm birth in communities of color? Why have black and brown women suffered from so many preventable complications related to pregnancy, like hemorrhages?
Many problems are linked to these sad statistics. Poor neighborhoods with limited resources and failing public schools. Unreliable public transit. Limited access to fresh foods. As hardships compound, black women become more likely to develop conditions that can make pregnancy challenging, like diabetes and hypertension. Many struggle with chronic stress, which further erodes their health over time.
Women who have participated in McLemore's studies also describe experiencing racial discrimination from health care providers. They talk about physicians and nurses who ignore their questions and dismiss their pain. Even tennis star Serena Williams had trouble getting tests she needed to diagnose a dangerous blood clot in her lungs the day after her daughter was born.
Much of McLemore's work draws on insights from women who have faced injustice related to their reproductive health. It's an approach that runs counter to the quantitative science that many Americans associate with clinical expertise. Although McLemore conducted her doctoral research on ovarian cancer biomarkers from a laboratory, she finds qualitative approaches crucial to answering the questions that intrigue her most.
"Lived experience is to public health as health history is to clinical health service provision," she said. "I think that people who live with conditions are experts by experience. They know exactly what they need. They know exactly how to manage with the resources that they have. To not build on that expertise, in my opinion, seems really dumb."
To counter discrimination in the health care system, McLemore uses her platform as an expert to advocate for policy changes across the country, from diversifying the medical workforce to increasing public funding for studies on health issues that affect women of color.
She credits the experience and relationships she's gained at UCSF with helping her become the kind of public intellectual who doesn't just talk about problems; she also supports initiatives that make a difference. One example: Some of the women who participated in a study McLemore led – a 2013 project that trained formerly incarcerated women to work as doulas – continue to offer information and emotional support to pregnant women in jail today.
In the last few years, McLemore's work has brought her before some high-profile audiences. Her research has been cited in briefs submitted to the Supreme Court for three legal cases related to reproductive rights. And in 2016, she spoke about UCSF's Preterm Birth Initiative at the White House Frontiers Conference. Then-President Barack Obama hosted the event to showcase innovation around the world.
"Your UCSF mentors open doors for you that allow you to be able to present your work in ways that you never imagined," McLemore said. "I got to fist-bump President Obama."
When asked how she felt about winning an award for audacity, McLemore laughed. "I prefer the term 'badass,'" she said, "but audacious works. All it really means is a person showing a willingness to take surprisingly bold risks … What's the point of having power if you're not going to wield it?"
Monica McLemore won a 2020 UCSF Campaign Alumni Award in the "Audacious" category. The award honors those who have achieved a remarkable accomplishment by setting a compelling vision for something so impactful that others might have doubted that it could be done.