Amy Houtrow, MD, PhD '12, MPH :

Being human and improving the lives of others
Clinical staff call her the doctor who makes mothers cry.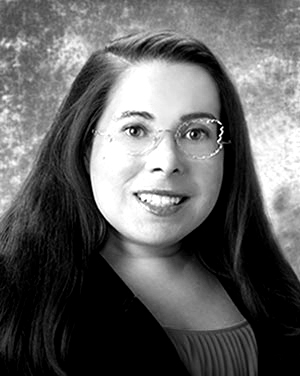 It's not because she's the bearer of bad news. On the contrary, Amy Houtrow, MD, PhD, MPH, gives these mothers just what parents of children born with disabilities yearn for.
First, she offers hope. Dr. Houtrow was born with a rare genetic disease ­– a form of skeletal dysplasia that left her short of stature and with physical limitations – but she is clearly thriving.
Then she gives parents a safe place to express their grief. "Sometimes," she admits, "that involves tears."
It's easy to understand why Dr. Houtrow was named one of The Dedicated. At age 4, she knew exactly what she wanted to be when she grew up. Undergoing numerous surgeries as a little girl meant spending a lot of time inside a hospital; consequently, her doctor become a significant and beloved figure in her life.
"When I was a small child, he made me feel very comfortable as a patient and unafraid of what was about to happen to me – a major surgery," she recalls. "He was exceptionally warm and kind but also very direct, clear, and thoughtful. By 4, I was quite clearly on the path to being a doctor."
After joining UCSF as a faculty member in 2005, Dr. Houtrow, who earned her medical degree at Michigan State and an MPH from the University of Michigan, received her PhD in medical sociology while studying how children's disabilities affect their families. She left UCSF in 2012 and joined the faculty at the University of Pittsburgh, where she is now a professor and endowed chair in the Department of Physical Medicine and Rehabilitation, as well as chief of pediatric rehabilitation medicine services at UPMC Children's Hospital of Pittsburgh.
Dr. Houtrow believes her childhood uniquely prepared her to guide parents whose children face the same challenges she endured. Her experiences also guide her research, which seeks to advance policies that address inequities in the US health care system for children with disabilities.
"Parents appreciate that I have a background that informs me in a way that other physicians without my experience could not possibly know," she says. "I approach my patients the way I wanted to be approached and cared for. I talk about the hard things, like being afraid or being bullied because you're different or not wanting people to notice how you look or how you walk."
When asked which of her accomplishments she was most proud of – besides the clinical care she provides – Dr. Houtrow points to two examples when research that she and colleagues conducted helped shape public policy. Once, she and her research team delivered research to California lawmakers proving that it is not more risky for children with disabilities to receive care from their parents as opposed to an agency. Other states also relied on the data to allow family members to be in-home paid providers.
Another time, her data helped quash a federal bill that would have tied Supplemental Security Income (SSI) to school attendance. "We shared information with staffers from the House Ways and Means Committee to show that there wasn't a higher truancy rate among children on SSI compared to children on Medicaid," she says. "We were able to help stop something bad from happening that would have harmed millions of families."
Dr. Houtrow calls the time she spent at UCSF understanding how health policy and social policy intersect incredibly valuable because she figured out how to "contextualize the big picture." Learning how to do quantitative and qualitative research gave her the tools to launch a successful research career.
"Hopefully, my own experiences as a patient and as a researcher have helped me do a better job of connecting with children and their families on some of those more challenging aspects of practicing medicine," she notes. "It's not always about deciding whether or not to treat with a specific drug, or recommend a specific intervention. The kind of work I do isn't lifesaving very often, sometimes it's more about just being human and finding ways to improve people's lives."
Amy Houtrow won a 2020 UCSF Campaign Alumni Award in "The Dedicated" category. The award honors those who have devoted their careers to inspiring the next generation of scientists and health care providers.