Robert Niklewicz, PT '76, DHSc :

Passionate Professional
2021 Alumnus of the Year, UCSF Department of Physical Therapy and Rehabilitation Science
Physical therapist Robert Niklewicz, PT '76, DHSc, loves to play in the dirt. After decades as a busy practitioner, treasured teacher, and proponent of excellence in the profession, tending to 61 types of roses in his backyard is a relaxing pastime.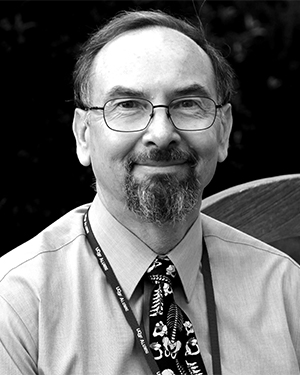 "Gardening and photography are ways I decompress," he says. "Deadheading, pruning, focusing on the soil, the thorn, the bud – it all forces me to slow down, or else get cut to shreds."
Yet as in all things he pursues, he doesn't just tinker, he goes full throttle: He is currently studying to be a master gardener through UC Davis Extension, which he'll add to a long list of accomplishments.
Now, for all of his skill and service, he's being honored by the UCSF Graduate Division as Alumnus of the Year. "It's a mind blower," he says. "I've known so many great physical therapists, to be singled out for this recognition is just incredible."
Tending to Bodies and Spirits
Niklewicz grew up in Napa, where his parents, who emigrated from Poland before he was born, ran a grocery business. He thought he might want to become a dentist and enrolled at City College of San Francisco. But he was soon recruited to be part of the college's first orthopaedic physician assistant class.
Time spent at Letterman Army Medical Center at the Presidio of San Francisco during his training cemented his dedication to medicine – and set him on the path to physical therapy.
"I took care of Vietnam vets with traumatic wounds and amputations," he says. "The surgeons would get their bodies back together, then they would go to physical therapy, where I'd observe the PTs help return their bodies to functionality and help fix their spirits. The PTs motivated them to fight for their lives by teaching them how to be more independent. I saw a path and knew I wanted to do this forever."
After his PA training he briefly went back to the safety net of the grocery business while working as a PT aide at Mount Zion Hospital and pursuing a bachelor's degree at San Francisco State. Amid all of this, he was determined to find a way to pursue his dream of becoming a physical therapist.
That dream came true through the UCSF Program in Physical Therapy. He says the yearlong program was intense – plus he and his wife, Cory, had a 3-year-old and a newborn at home, and he was still a part-time PT aide.
"I had to be on my toes all the time," he says. "In our program it was sink or swim as there was no opportunity to retake a class in the one-year program. But all the faculty were dedicated and were great mentors."
In Overdrive
Niklewicz graduated in 1976 and was hired as a full-time physical therapist at Mount Zion. His experience with veterans meant he was often sent some of the most challenging patients, including amputees. But he thrived in the work.
He continued at Mount Zion on weekends even after he opened a private practice in 1979 in Rohnert Park. It was a convenient location to be near home, yet his inner drive pushed him to literally drive all over the Bay Area to do more: He earned a master's degree in exercise physiology from Sonoma State University and a doctorate in health science and physical therapy from the University of St. Augustine. He also became an adjunct associate professor at UCSF, with specialties in TMJ disorders and professional ethics.
"As I learned new techniques and innovations in the field, I kept saying, 'Wow, I can do this' – and I wanted to keep finding that 'wow factor,'" he says. He also loved to pass on wisdom and excitement to students. "Showing them something like how to treat TMJ, I'd see the lights turn on when they got it. When you love something like I love this work, you want to share it."
He made an impression on students as well as colleagues, like Rita Arriaga, PT '74, MS, UCSF associate clinical professor, with whom he's taught a number of courses.
"I've known Bob for many years in varying aspects of our profession – clinical, academic, and professional association activities," Arriaga says. "He has a strong commitment to physical therapy and the professionalism and character of its practitioners. When it came time to enhance coursework in ethics, professionalism, and management for the UCSF/SFSU Graduate Program, I asked Bob to assist me in both developing and teaching content in these areas. I was very thankful for his preparedness, honesty, sincerity, and positive attitude."
Niklewicz has also given back to UCSF by serving two terms, in the 1990s, as president of the UCSF Graduate Division Alumni Association.
When he retired from private practice in 2006, he barely slowed down, becoming a PT at Queen of the Valley Medical Center in Napa, launching an ergonomics consulting company, and teaching locally and nationally.
Family Ties
After leaving his private practice, Niklewicz's thoughts turned to new ways to spend his time – and to his legacy.
His parents met at a displaced persons camp in Germany after World War II, where they spent a few years before coming to the Bay Area. But they never told him their wartime stories, finding them too painful to relive. Instead, he heard the accounts from other family members, including his maternal grandmother, who would feed him lunch every Saturday at her home near Mount Zion early in his PT career.
Years later, he turned back to the notes he had taken over those treasured lunches and began to write fictionalized versions of the family stories. "I felt like I needed to put something together so that my siblings and our grandkids could know how our family had survived," he says.
His first novel, The Last Train to Dachau, published in 2008, is based on the experiences of his mother and her family during the war. His second novel, Codename: Flame—The Untold Saga of a Young, Defiant Freedom Fighter in the Polish Underground, published in 2012, was inspired by his father's time in the Polish resistance.
As part of his research, he visited Poland, and with Polish as his first language was able to meet and talk to relatives, as well as visit the concentration camp where his father had been held.
Today he continues to be busy with work and family. He and Cory have three grown children and eight grandchildren they enjoy spending time with. But he's taking time to smell his cherished roses.
"Being outside is really important," he says. "Our yard backs onto vineyard, so I can look out there and reflect on the good fortune I had been given through my family and my profession. Wow."