Alyssa Herrera-Set, DPT '09 :

Entrepreneur, educator, and inspiration
2020 Alumna of the Year, UCSF Department of Physical Therapy and Rehabilitation Science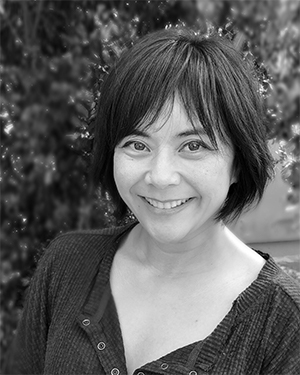 When she was growing up in San Jose, Calif., Alyssa Herrera-Set, DPT '09, was a gymnast, dancer, and cheerleader, and she enjoyed these sports' culture of friendship, hard work, and athleticism. 
"I never imagined making a career out of these passions, but I did," she says. The career she built wasn't as a professional athlete but as a physical therapist who assists gymnasts, dancers, and cheerleaders in recovering from – and avoiding – injuries and performing at their best.
Today, Herrera-Set runs a physical therapy (PT) private practice and has a stellar reputation as a specialist in the physiology and culture of gymnastics who helps young athletes across the Bay Area. She oversees the nonprofit gymSAFE, leads no-cost movement classes for special-needs children, and teaches and mentors the next generation of physical therapists. She also heads an advocacy group for female entrepreneurs.
"I'm immersed in the cultures of these sports and have a good feel for those worlds," Herrera-Set says. "My priority is always the gymnast in front of me, but it's nice to make a difference in the larger community and help young athletes in the sport that I love so much."
Pursuing Her Passions
As an undergrad at UC Berkeley, Herrera-Set was interested in a wide range of subjects, from fashion to elementary education. Ultimately, she earned a bachelor's degree in American studies, and after graduation went into advertising. But she didn't find that work inspiring.
She realized that she wanted to work in a field that would incorporate her love of gymnastics and her desire to help people. After two years completing prerequisite courses, Herrera-Set was accepted into UCSF's physical therapy doctoral program, a joint program with San Francisco State University (SFSU).
Pregnant with her second child, she deferred entry for a year but then dove headfirst into her studies, earning master's and doctoral degrees from UCSF/SFSU.
Even with a busy class schedule and two young daughters at home, Herrera-Set launched a gymnastics program for children with special needs, recruiting volunteer instructors from her PT cohort. It's a program she continues to run with volunteers from UCSF and local colleges and high schools, giving students valuable experience in pediatric PT and special education.
"My years at UCSF were such a great experience, though it was definitely a busy time," she says. "With a family at home, I didn't get to delve into all the social opportunities that many of my classmates enjoyed, but I still made some awesome friends and connections."
She also found numerous mentors among the faculty, including Kimberly Topp, PhD, PT, professor and department chair emeritus, whom Herrera-Set describes as a trove of wisdom. "I continue to strive to have her level of knowledge about anatomy," she says. "She's someone I really look up to."
Topp, in turn, says that Herrera-Set was herself a role model from the time she began the PT program.
"She was such an enthusiastic, positive individual, and motivating to all of her peers," says Topp, who completed her own postdoctoral training in neurobiology at UCSF. "She engaged them in community service then and has kept many of them engaged in service after graduation. In fact, she's still an inspiration for students. We send them to her for clinical experience and motivation for their future work. She brings out the best in people."
An Even Broader Reach
In 2013, Herrera-Set launched her private practice, On the Move, located in Belmont, Calif. After working for years with young gymnasts and dancers, she started to see patterns in their PT needs.
"There were so many things I could tell my clients to help prevent frequent injuries, but I wanted a vehicle to get that information out into the broader gymnastics community," she says.
Working with longtime gymnastics coach Jessica Wickizer, Herrera-Set developed a screening tool called gymSAFE and established a nonprofit of the same name. The 15-minute screening tool tests range of motion and reveals common weaknesses and movement impairments, then produces a "report card" that gymnasts can take to their coach or physical therapist.
When Herrera-Set was ready to build an evidence base for gymSAFE, she called on her fellow UCSF graduate and experienced PT researcher Jennifer Kinder, MSPT '07, DPTSc '10, an associate professor at Notre Dame de Namur University in Belmont.
Kinder says that one summer, as they were in the middle of data collection for gymSAFE, Herrera-Set called her from Machu Picchu in Peru to help work through some data collection issues.
"Even talking to me from Machu Picchu, she was cool, calm, and collected," Kinder says, "That's the amount of dedication she has for everyone she works with."
Herrera-Set guided Kinder in opening her own PT practice and has helped countless others do the same.
"She is a forward thinker for a physical therapist and is great about offering advice and guidance," Kinder says. "She's built such a community around her. Physical therapists are often overlooked, but people like Alyssa are pushing PT to the front pages."
Honored by Her Peers
Her daughters are now 13 and 15, and both are gymnasts. That means Herrera-Set and her husband, Eric Set – an inpatient pharmacist at Kaiser Permanente San Francisco – stay busy going to practices and meets. It also means that her daughters are in the family business: They lead the special-needs PT classes that Herrera-Set launched during her UCSF training, currently being held over videoconferencing.
Herrera-Set says the Alumna of the Year honor came at a good time. "I heard this news the first week of the stay-at-home order, so it was a huge and nice surprise during this tough time," she says.
She also notes how much she values being honored by her colleagues.
"I've spent a lot of my PT career following my intuition, passion, and gut instinct," she says. "That's being seen and rewarded by people I admire and respect in my field, and that means a lot to me."