Elaine Bearer, MD/PhD '83 :

Finding the neural connection between music and our brains
Elaine Bearer defies simple description. Neuropathologist, violinist, composer, co-founder of a Guatemalan health clinic, and – not surprisingly – one of The Audacious.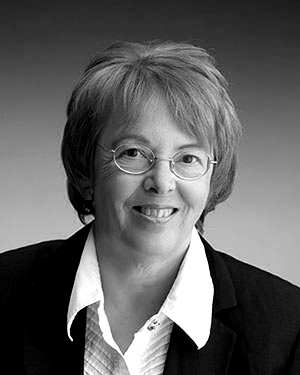 To Dr. Bearer, who earned her doctoral degrees from UCSF in 1983, pursuit of these disparate disciplines doesn't seem daunting at all.
"Everything is connected. If you believe in physics, if you believe in science, then everything is according to 'first principles,' the physical laws of nature, which translate to universality. When people say, 'Why are you doing these many different things?' I say 'I don't really feel like they're different.'"
She explains: "I'm sitting on a white leather lounge chair in a Pasadena, California, condo, looking at my computer on one side of the room with some science papers on it and my piano on the other side of the room with the new piece I'm writing, on it. I'm really excited about this particular piece because I want to capture these philosophical ideas in a musical event."
The challenge is reflected in her next statement:  "I think all of my pieces have tried to do that, and I haven't succeeded yet."
From a very young age, Dr. Bearer's life was about music. She began composing music at age 6, learned to play the piano, violin, viola, and eventually, the French horn, and heard her first piece performed when she was 9. Dr. Bearer attended Juilliard School in New York, studied under the renowned composer Nadia Boulanger in Paris, and earned undergraduate and graduate degrees in music. Her pieces have been performed around the world, including in Paris, Geneva, New York, and San Francisco.
Yet determined to dig deeper, Dr. Bearer switched gears in the early 1980s to pursue science. "My vision was to understand how music affects the brain, and to do that, I needed to understand the brain both molecularly and physically."
She earned her MD/PhD in the medical scientist training program at UCSF, where she was a clinical instructor in pathology and research biochemist in biochemistry and biophysics. In 1991, she left UCSF to become a tenure track professor in the Departments of Pathology and Laboratory Medicine at Brown University. In 2009, she was recruited to the University of New Mexico (UNM), where she was named the Harvey Family Professor of Pathology with appointments in the pathology, neurosurgery, and music departments.
Along the way, she discovered a deep love for science, which she describes as "enrapturing."
"When you start making discoveries, it's a thrill like no other. Once you have a taste of that, you discover how passionate you are about it," says the woman, who discovered genes found to be essential for brain development and memory. Her scientific work continues to generate headlines: "UNM Neuropathologist Develops Biomarker Test for Identifying Childhood Abuse" and "UNM Researchers Link Herpes to Alzheimer's Disease."
But her goal remains to find the neural connection between music and our brains.
"Nobody really believed I was going to get to this end result in any kind of a reasonable time taking this approach," Dr. Bearer says. "Maybe they were right. I've discovered a lot of things, but I haven't quite made it to my goal. If I want to understand how music affects the brain, I need to understand how music interacts with our feelings, with our emotions. I'm hoping that I can get to that step."
Dr. Bearer says she owes much to her postdoc adviser, Bruce Alberts, PhD, UCSF professor emeritus of biochemistry and biophysics, who nominated her as one of The Audacious for her successful pursuit of music's effect on the mind. "He never believed that I could do what I was going to do, and then I did it," she says, laughing.
In a career filled with highlights, it isn't easy to select one. So she chose several: Dr. Bearer helped found a health care clinic in the Guatemalan highlands where she volunteered from 1993 until 2005, traveling there once or twice a year until local residents achieved the training and education to run it on their own. She was chosen as a Distinguished Alumni Award Winner by the Manhattan School of Music on its 100th anniversary in 2018. And in a tribute to the left side of her brain, she led a 2019 symposium at the International Society for Magnetic Resonance in Medicine in Montreal.
Finally, Dr. Bearer notes: "Virtually every piece that I've composed has been performed publicly by professional musicians at least once."
And that is a claim very few scientists – let alone neuropathologists – can make.