Andrew Polson, PhD, Postdoc Alum :

Developing new medicines, from the lab to the clinic
Bringing a drug to market typically takes dedicated scientists untold hours over many years, but the payoff can be life-changing for patients.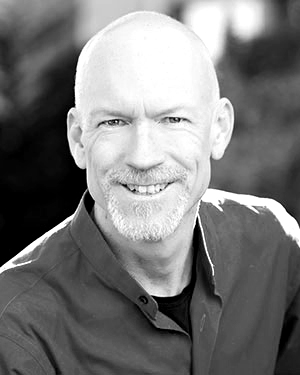 Last year, Andrew Polson, PhD, postdoc alum, saw two decades of work come to fruition in the form of polatuzumab vedotin (Polivy), a chemotherapy drug for diffuse large B-cell lymphoma (DLBCL). DLBCL, the most common type of non-Hodgkin lymphoma, affects white blood cells called lymphocytes. More than 18,000 people are diagnosed with blood cancer each year in the United States, and many of them will be treated with Polivy, which the FDA approved in 2019.
Though the drug was named for Polson, he gives credit to the thousands of people who worked on its development and the patients who participated in clinical trials.
"It's great to be part of something that got this far," he says. "One reality of drug development is that only about 1 in 100 projects get all the way to clinical trial and only 1 in 10 of those will get to patients. You become used to things not working. This time, it worked."
The Language of Life
Science is in Polson's blood. His parents were psychology professors at the University of Colorado Boulder. When he was in high school, Polson saw a graphic of an unwinding strand of DNA on Carl Sagan's TV show, Cosmos.  He was immediately fascinated and decided to pursue biochemistry.
After earning a bachelor's degree from Boulder, he crossed to the other side of the Rocky Mountains to pursue a PhD in biochemistry at the University of Utah.
Next came UCSF, where he studied in the lab of Don Ganem, MD, now professor emeritus of microbiology and immunology. As the nation's AIDS crisis was finally beginning to ebb, Ganem's lab was gaining a deeper understanding of a common cancer in people living with HIV: Kaposi's sarcoma, which causes skin and mouth lesions.
"UCSF had such a high concentration of excellent science," Polson says. "I was able to collaborate with many smart people working on many interesting projects."
A Different Kind of Campus
Polson assumed that he was on a path to an academic career on a campus like UCSF, but Genentech's campus turned out to be his destination. He's worked there for 18 years and is currently a principal scientist in translational oncology. For more than 15 of those years, his work focused on developing antibody-drug conjugates for treating blood cancers. Now he's pursuing work in synthetic immunity – using T cells for precision cancer treatment. "T cells are one of the immune system's killer cells," he says. "We're short-circuiting the immune system and targeting the tumor."
Polson's also enjoying mentoring young scientists through Genentech's postdoctoral program.
"Scientists coming out of academia don't always have experience beyond basic science," he says. "I really enjoy helping young researchers find their way through what it actually takes to make a drug. I was taught by excellent instructors, so it's nice to pass that on."
Polson is also proud of the fact that his work has a tangible impact in the real world.
"It's cool that Polivy is named after me, but one of the best things about it is the people I got to work with on it for so many years," he adds. "I'm not just in my own little lab. I get to be part of large teams of talented people who take the science and scale it way up. I really like that part."
Andrew Polson won a 2020 UCSF Campaign Alumni Award in "The Innovators" category. The award honors individuals whose work has led to unexpected findings or outcomes that resulted in positive changes to the science or health care communities.