Ahimsa Porter Sumchai, MD '81, Resident Alum :

Community healer
The UCSF Medical Alumni Association Board of Directors is honored to announce the 2021 Alumna of the Year: Ahimsa Porter Sumchai, MD '81, Resident Alum.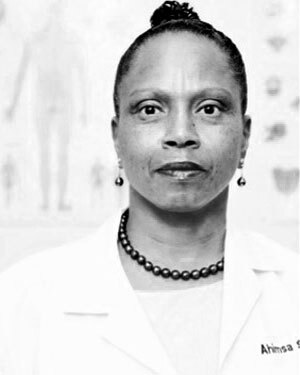 Every map tells a story. The maps regularly consulted by Dr. Ahimsa Porter Sumchai tell the story of the Hunters Point neighborhood in southeast San Francisco. For 100 years, it was home to the Hunters Point Naval Shipyard, filled with dock workers, sailors, and naval and commercial ships. It was a bustling center of activity that left behind a legacy of toxic waste.
Hunters Point maps also tell the story of where Sumchai grew up and where she now devotes countless hours to tracking the impacts of that toxic environment on residents' lives – through the Hunters Point Community Biomonitoring Program – and helping them heal.
In recognition of her years of commitment to health, advocacy, and research for the Hunters Point community, as well as a career of service to patients and UCSF students, Sumchai has been named the 2021 Alumna of the Year by the UCSF Medical Alumni Association.
"This is as big as it gets for me," she says. "When I die, you must etch this on my tombstone. With this honor, the university is supporting not just a person but also a community, and in many ways, a movement. It's much bigger than me as an individual."
Finding Her Path
Sumchai grew up with her parents and two brothers in Potrero Hill and Visitacion Valley, adjacent to Hunters Point. Her father was a longshore "walking boss" and later, a shipping clerk, at the Hunters Point Naval Shipyard. He was a "proud union member," she says. Sumchai was an energetic child, and her parents channeled that energy into gymnastics, in which she thrived and won citywide competitions.
"I think that taught me how to rebound, how to get up after I fall, how to persevere and challenge norms," she says.
It also inspired her to pursue the health sciences. After graduating from Woodrow Wilson High School, Sumchai attended San Francisco State University as a premed/biology major. She thought she might become a physical therapist, but a mentor steered her in a different direction.
Carlton Benjamin Goodlett, PhD, MD, was a fixture in San Francisco's Black community for decades. In addition to being a physician and civil rights leader, he ran the Sun-Reporter, a prominent African American newspaper. Sumchai, a talented poet and writer, became an editor-at-large for the Sun-Reporter while she was in college. One day, Goodlett called her into his office.
"He told me to go to medical school," Sumchai says. "That was foundational to my choice to become a doctor. He was an influential mentor, and he was by my side when I graduated."
Jumping In with Both Feet
Sumchai entered the UCSF School of Medicine's Class of 1981 with a diverse cohort that was about 50% female. She stayed at UCSF for a residency in general surgery and neurosurgery but later transitioned to Stanford Medical School for a residency in emergency medicine.
There, she became the first African American woman to serve as a flight physician for a hospital-based aeromedical transport. That entailed participating in more than 300 emergency helicopter transports, most of them spine injuries that called on her expertise in both emergency medicine and surgery.
"No one else was doing what was I doing," she says. "I could be on call for 36 to 72 hours for those helicopter runs. I finished that period with some occupational post-traumatic stress."
Sumchai's training was followed by 20 years as an emergency physician, physician-specialist for the San Francisco Department of Public Health, and staff physician with the Giants baseball team. These were positions that required exceptional energy and skill but eventually left her physically and mentally burned out. She knew it was time to focus on her wellness, and she wanted to help her fellow doctors and community members with their health and well-being too.
New Directions
To her extensive résumé, Sumchai added certifications in nutrition and strength training. She now operates three brick-and-mortar clinics, two in San Francisco and one in Sacramento, as Golden State MD Health and Wellness. Among her clients are physicians, chiropractors, dentists, and other medical professionals who know she understands the demands of their careers.
Another calling soon followed. In 2010, she launched the Hunters Point Community Biomonitoring Program to measure and track the impact on residents of the toxic waste left behind by the shipyard. This waste includes nuclear, chemical, and hard-metal contaminants that sit underneath residential apartment buildings and small businesses – places where people of all ages live, play, and work. For decades, its residents speculated about the source of high rates of cancer and other diseases in their community, and Sumchai's program is helping them find answers.
"It was difficult to step into something new, not knowing who was going to pay for it," she says. "But UCSF gave me a lot of academic access and credibility, and at UCSF and Stanford, I had pioneering experiences that made me willing to risk jumping into new medical frontiers."
In some ways, that journey began years earlier, at the start of her career, when her father died in his 50s from pulmonary disease resulting from many years of working in the toxic environment of the shipyard.
"That was a big moment for me," she says. "It jettisoned me into adulthood."
Now, Hunters Point community members look to her for guidance on how to take care of themselves and their families. The biomonitoring program is systematically screening everyone who lives or works within a mile of the former shipyard's location.
"Across ages, genders, and ethnic groups, we see the same toxins that the Environmental Protection Agency and the US Navy say are in these buildings, air, and soil," she says. "That includes radioactive elements."
The program occasionally sees a patient whose body is so overwhelmed by toxins that they need immediate care. Those with such serious "body burdens" are referred to Robert Harrison, MD, MPH, director of UCSF Occupational Health Services and chief of the California Occupational Health Surveillance and Evaluation Program. He and Sumchai counsel patients on the best course of treatment if they show signs of disease and ways to optimize their health and reduce further exposure.
Beyond Hunters Point, Sumchai is coordinating with biomonitoring registries around the country and as far away as Uzbekistan.
"Human biomonitoring is going to be incorporated into advanced screenings along with geospatial mapping, so we can bring both aggregate analysis and specificity of toxic markers to these sites," she says.
Centered on Wellness – and Giving Back
Sumchai has two sons and several grandchildren who live nearby, and in her spare time, she enjoys exercising, hanging out with her Pomeranian, Romeo, and watching the birds that visit her extensive backyard.
Philanthropy and volunteering are also important to her, and she is currently serving on the board of the UCSF Medical Alumni Association (MAA).
Dr. Sumchai says that MAA Board of Directors President Ramona Tascoe, MD '79, has been a wonderfully supportive colleague and friend for many years. Tascoe says the admiration goes both ways.
"Dr. Sumchai is a brilliant and devoted doctor, scholar, advocate, and community activist," she says. "Perhaps best described as tenacious, she has been unyielding in her demand for social and environmental justice for more than 30 years."
Sumchai also gives back by leading tours for new UCSF medical students.
"I tell them that in medicine, you should keep all doors open," she says. "Doctors have so many opportunities beyond working in a clinic – like writing, being an expert witness, or learning alternative therapies to blend into their medical practice. In the post-pandemic era, fitness and nutrition will be important areas of expansion for medicine and will be essential to physician wellness. I want medical students to know that from the outset."