Lucy Reifel, MD '75 :

Living simply and caring for her community
For 40 years, Lucy Reifel, MD '75, has served the community of the Rosebud Indian Reservation in South Dakota.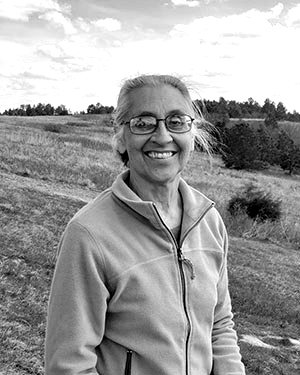 She has helped reduce infant mortality rates through the federal Healthy Start program; ensured families had sufficient nutrition through the federal Special Supplemental Nutrition Program for Women, Infants, and Children; delivered babies; promoted breastfeeding; set broken bones; vaccinated children; and much more.
A member of the Sioux people, Reifel – also known as Lucy Her Many Horses – continually advocates for improved health interventions and increased medical funding for the Rosebud reservation. She is a steadfast force in her region and a truly dedicated doctor for the families who have relied on her for decades.
"I always wanted to meet the needs of my community," she says. "The things I do every day for kids and families, it's just a way of life for me now."
Family Practice
Reifel was born in Detroit when her father, a member of the Lakota people, was finishing his medical training. Her family lived all over the US during her childhood, and Reifel says her parents kept them constantly busy with activities like science experiments, ice skating, sewing, and cooking. By junior high, Reifel was increasingly drawn to math and science.
"I noticed that few girls did as well as the boys in math and science, but they were easy subjects for me," she says. "Later, that interest turned into a desire to be a physician, though my dad didn't know why I wanted to apply to medical school – he still thought women belonged as nurses."
Curious about cultures and open to adventure, Reifel spent a transformative semester of high school living with a family in Turkey as part of the American Field Service program and spent her junior year of college at the University of Edinburgh in Scotland. She enjoyed learning about the traditions of both places, including studying the Turkish language and diving into the history and culture of the Scottish Highlanders and their many similarities to Native Americans.
Reifel was living with her family in San Diego when it was time for college. She attended UC San Diego and earned a degree in biology, then headed north for medical training at UCSF. She was pleased to join a cohort that was surprisingly diverse for the era, with a range of ethnicities, genders, and ages. That tight-knit class, combined with inspiring and encouraging faculty members, made it a rewarding experience.
"UCSF matched my plans for what I wanted to do with medicine, so it was the right place for me," she says.
Her focus was always on going back to serve in Rosebud, and the greatest medical needs there were in children's health to serve the youngest patients, obstetrics for women's wellness, and orthopaedics for quickly treating injuries without a long drive to the nearest hospital.
"I liked all kinds of medicine but especially loved working with patients face to face," Reifel says. "Family practice as a specialty was just beginning, and that, combined with pediatrics, would give me the training I needed to serve the needs of people on the reservation."
She completed an unconventional residency at the University of Colorado by spending two years in pediatrics and two years in internal medicine. "I also spent lots of time in obstetrics and orthopaedics as electives," she says.
Caring for Her Community
In 1980, with her training complete, Reifel returned to South Dakota, where she has served local families ever since.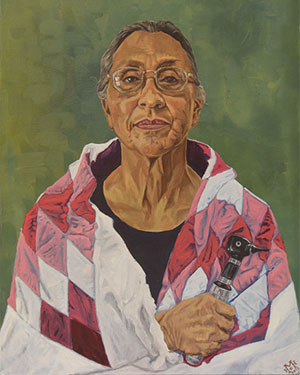 As she was working to grow programs for women and children, she unexpectedly became a mother herself. In 1981, she helped take care of a newborn boy, Casey, who was suffering from the effects of severe fetal alcohol syndrome. When his parents couldn't care for him, Reifel became his foster parent and eventually his adoptive mother. Casey was later joined by five siblings born to Reifel and her husband, Randy.
Though her children are all grown now and have children of their own, Reifel continues to volunteer in Rosebud's elementary school, running reading and science programs. She oversees well-baby and developmental clinics to keep the youngest patients – and their parents – healthy. She spends her free time gardening when the weather is favorable and shoveling snow during South Dakota's long winters.
Even after decades of contributions to her community, she was surprised to be named 2020 Alumna of the Year by UCSF's Medical Alumni Association (MAA).
"I'm shocked – I think nobody knows about me out here," she says. "It's great that UCSF would honor someone who doesn't have a big practice in a big city. I live simply and serve families. Recognition for that type of physician is very nice."
"We can't be sure what was in the minds of the admissions committee when this remarkable student was offered acceptance to UCSF in 1971," says Ramona Tascoe, MD '79, president of the Medical Alumni Association, "but we can tell you what is in our minds as we present her with the 2020 MAA Alumna of the Year recognition. UCSF played a foundational role in launching the medical career of this distinguished healer, Dr. Reifel. For more than 45 years, she has committed her life to serving the Indigenous communities of North America. For centuries, Native Americans have fought annihilation, injustice, and ongoing marginalization, and many still live on the slippery slope of survival. Dr. Reifel left the comfort of easier opportunities in the Bay Area and returned to the native reservation in Rosebud, where she paired her heart of cultural wisdom with the knowledge and skills acquired at the UCSF School of Medicine. Indeed, it was our privilege to prepare her, and it is our distinct privilege to celebrate her!"