Sandra Norberg :

Keep growing
Sandra Norberg retired from UCSF in 2003 but found herself returning again and again and again – seven times in nine years.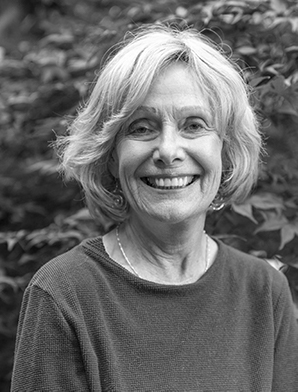 "It's hard to retire. It feels like you might lose your identity," she says. "It's so nice to go back and reconnect."
Now, Sandra serves as president of the UCSF Retirees Association, among her many activities across the city and beyond.
Close to Home
Born in Detroit, Sandra moved with her family to Mill Valley when she was 3 years old. "I've never wandered far from home since then," she says.
Pursuing a love of languages, Sandra earned a degree in international relations at UC Davis, studying Spanish, French, and Italian along the way. She used her Spanish-language skills in her first post-college job as a bilingual interviewer for California's Employment Development Department. Later, she moved to the department's Youth Employment Opportunity Program, interviewing applicants for the Job Corps.
Finding Her Place
In 1977, with her interviewing skills honed, she began working in Human Resources at UCSF, just up the hill from the house where she's lived for 49 years and where she raised her daughter, Lisa. Sandra began in the Employment Division but then moved to Financial Planning and Benefits, where she found her true niche. 
"Working in Benefits meant I got to help lots of people," she says. "That was lovely."
The role helped Sandra make connections across campus. She worked closely with numerous departments and department benefits representatives as well as with many of UCSF's Spanish-speaking employees. She also met her husband, Richard Drake, who worked for UCSF, first in HR and then in IT.
A Life of Service
After retiring, Sandra created a new chapter in her life focusing on food, another of her lifelong passions. She became a fixture at the Ferry Plaza Farmers Market, first as a volunteer and later as a permanent part-time employee at the Saturday market. It was another opportunity for Sandra to be of service to others and to help a variety of people, including shoppers, their families, farmers, and chefs, with many of whom she developed long-term friendships.
In retirement, Sandra has taken some ambitious vacations, including a National Geographic-led trip to the Arctic, a visit to the Galapagos Islands with scientists from the California Academy of Sciences, and a strenuous five-day hike to Machu Picchu in celebration of her 70th birthday. Sandra currently volunteers at the San Francisco Botanical Garden bookstore. A longtime music lover, she also attends SF Symphony concerts and San Francisco Ballet performances and has begun taking piano lessons to refresh musical skills she first learned as a child. 
Leading Through Listening
Sandra has served as president of the UCSF Retirees Association for the past three years. In addition, she's a Retirees Association representative on the Council of University of California Retiree Associations (CUCRA), a role she auditioned for as a UCSF staff representative on the Council of UC Staff Assemblies (CUCSA) during her career at UCSF. 
"The essence of my leadership style is listening to people," Sandra says. "We've banded together to make a difference. It's been really rewarding to work on behalf of UCSF, UCSF employees, and now UCSF retirees for more than 40 years."